Goalkepper Planner
THE SOFTWARE APP FOR GOALKEEPER COACHES THAT WILL ALLOW YOU TO…
Create your own exercises and access the world's largest library of exercises, ready to filter and plan your sessions.
APP SOFTWARE GOALKEEPER PLANNER
CENTRALIZE YOUR ENTIRE PLANNING IN RECORD TIME!
Valid for any device.
Reduces the time you spend on your planning by 90%.
Access whenever you need and from wherever you want
YOU ARE IN A UNIQUE MOMENT!
DISCOVER THE ULTIMATE TOOL FOR GOALKEEPING COACHES LIKE YOU!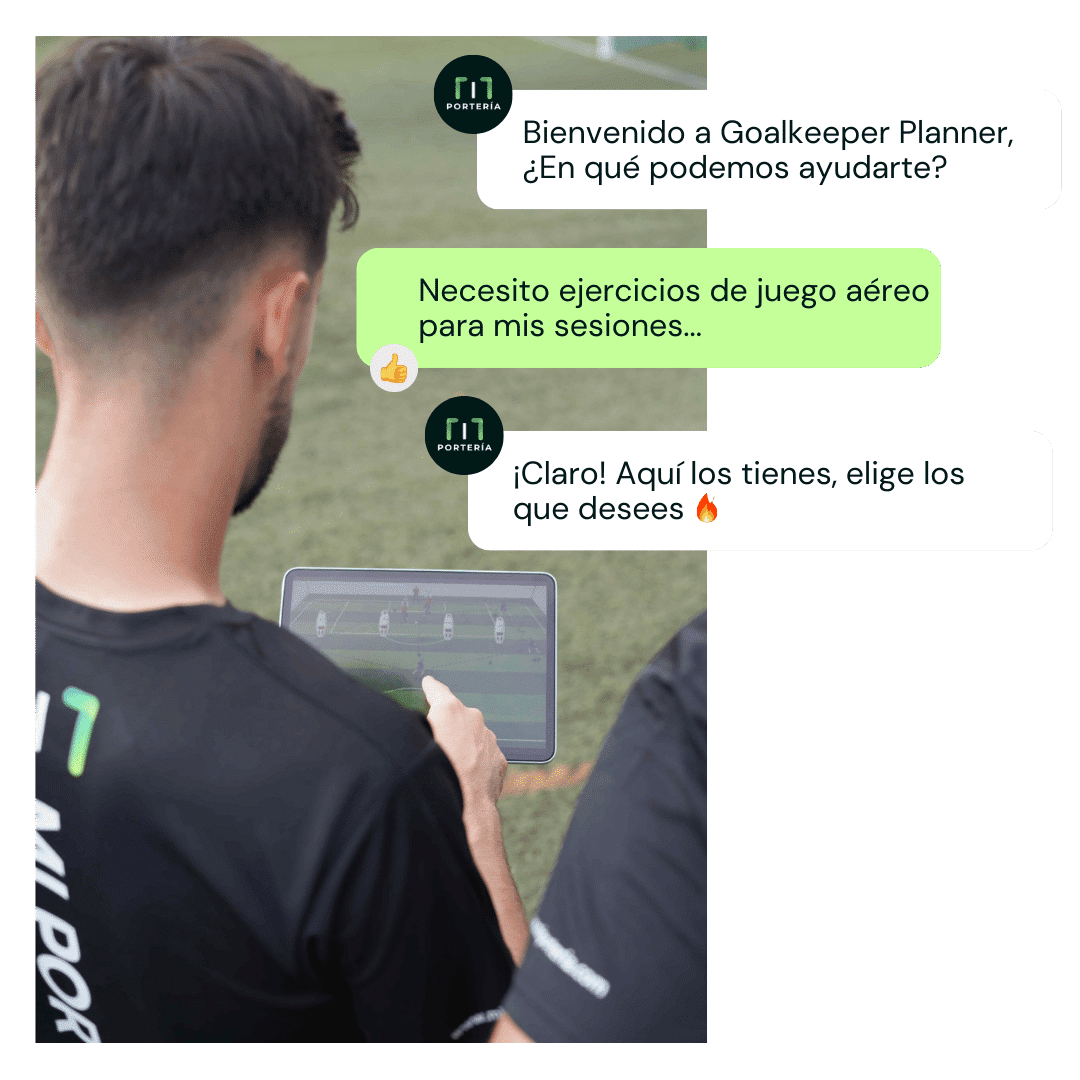 Created by and for goalkeeping coaches of all levels, this application is designed to address the daily challenges you face when creating exercises and planning your sessions.
Explore why we have become the most powerful and popular app in the world for goalkeeping coaches since our creation!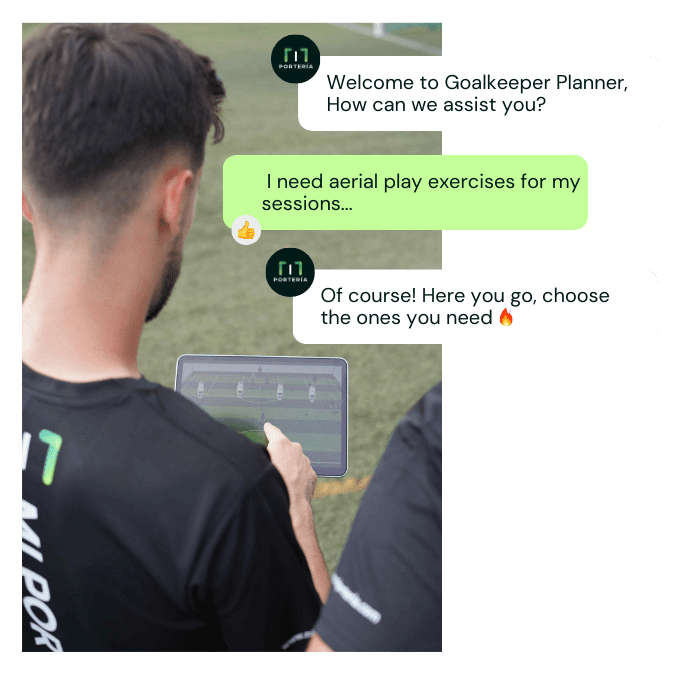 APP SOFTWARE GOALKEEPER PLANNER
THE LARGEST EXERCISE LIBRARY IN THE WORLD AT YOUR DISPOSAL!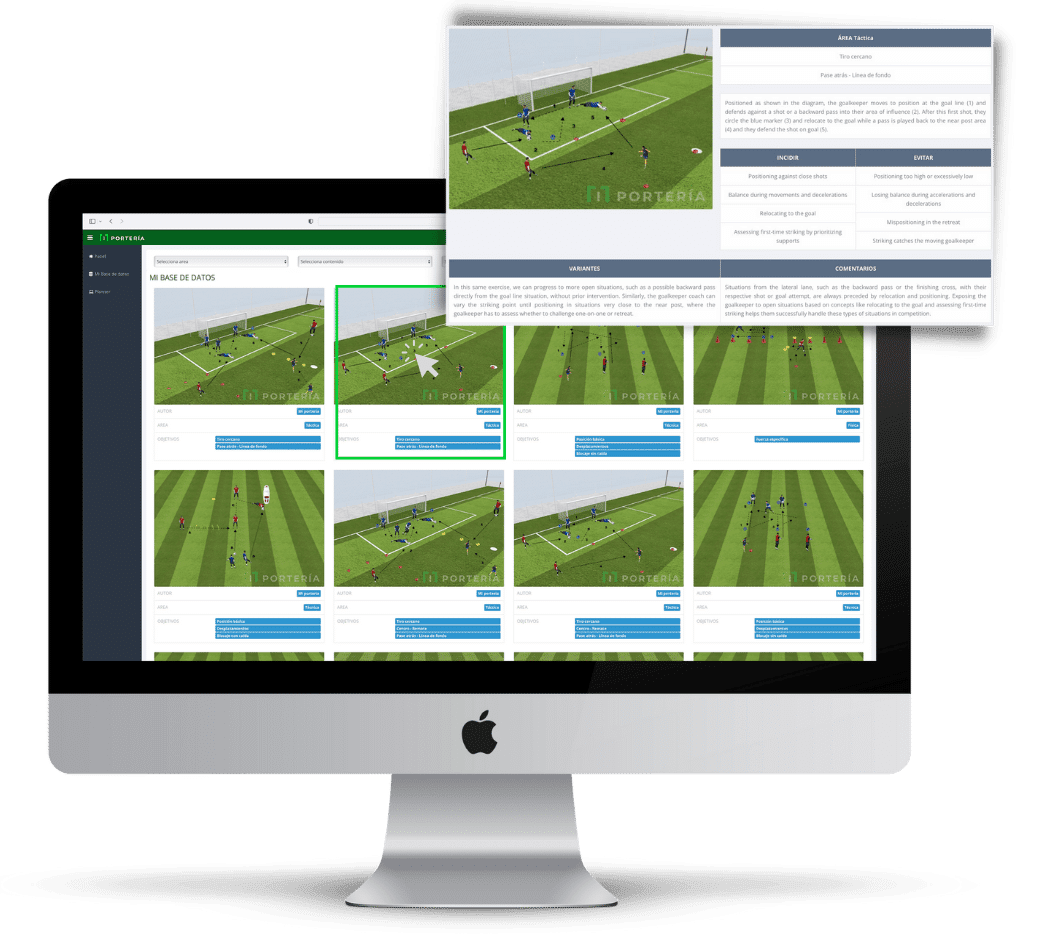 Access over 500 perfectly explained and structured exercises.
Discover new exercises every week.
Share your best exercises with the community if you wish to become a reference.
Capture and add to your library those exercises that inspire you the most and resonate with you.
PRACTICAL, INTUITIVE, AND EFFICIENT
FINALLY, ALL YOUR PLANNING IN A UNIQUE PLACE!
Para entrenadores metódicos como tú, esta es la herramienta perfecta. Con Goalkeeper Planner, ¡conseguirás planificaciones de alto impacto en tus porteros en un abrir y cerrar de ojos! 
Create your own exercises…
Plan your sessions in seconds…
Filter by objectives and contents…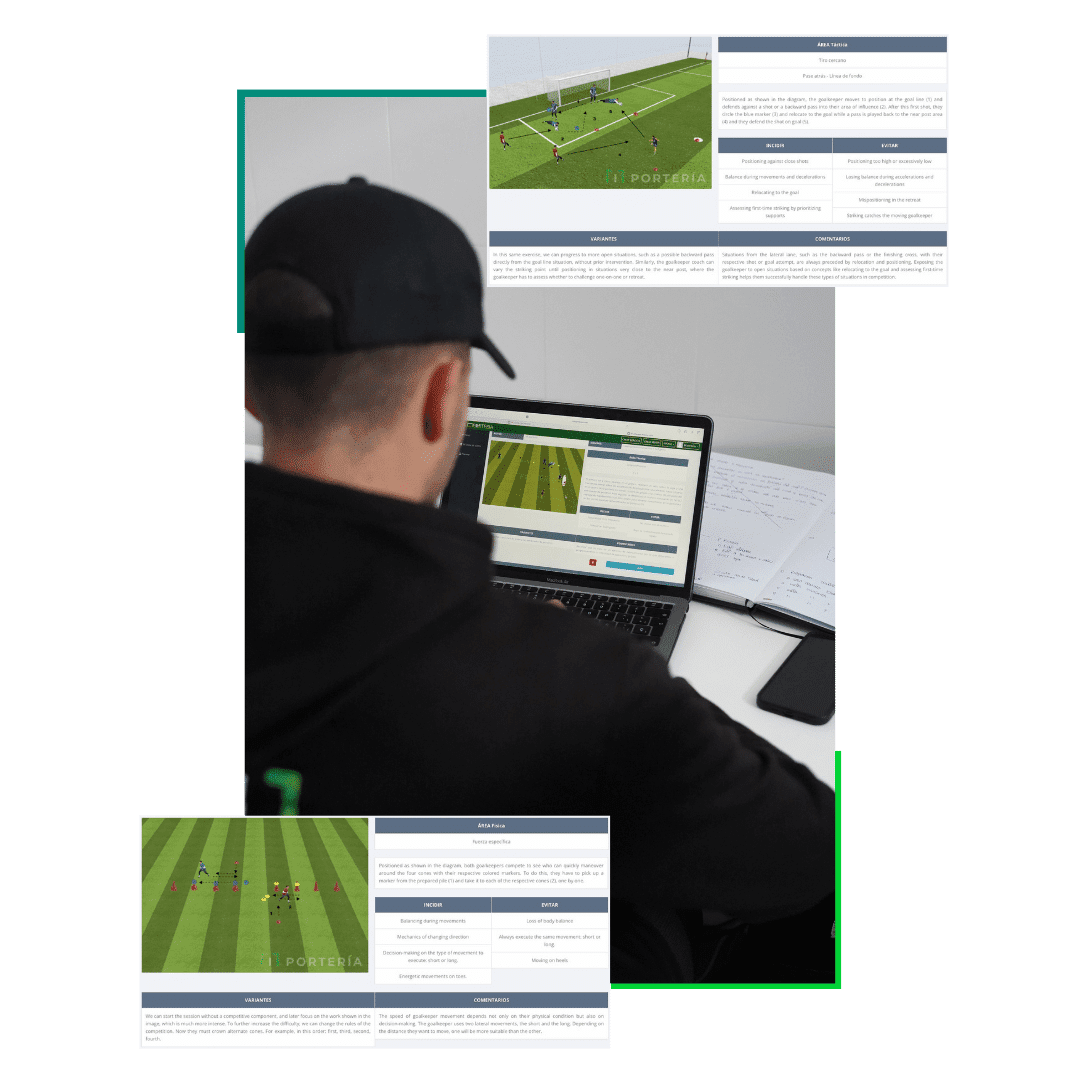 CREATE YOUR OWN EXERCISES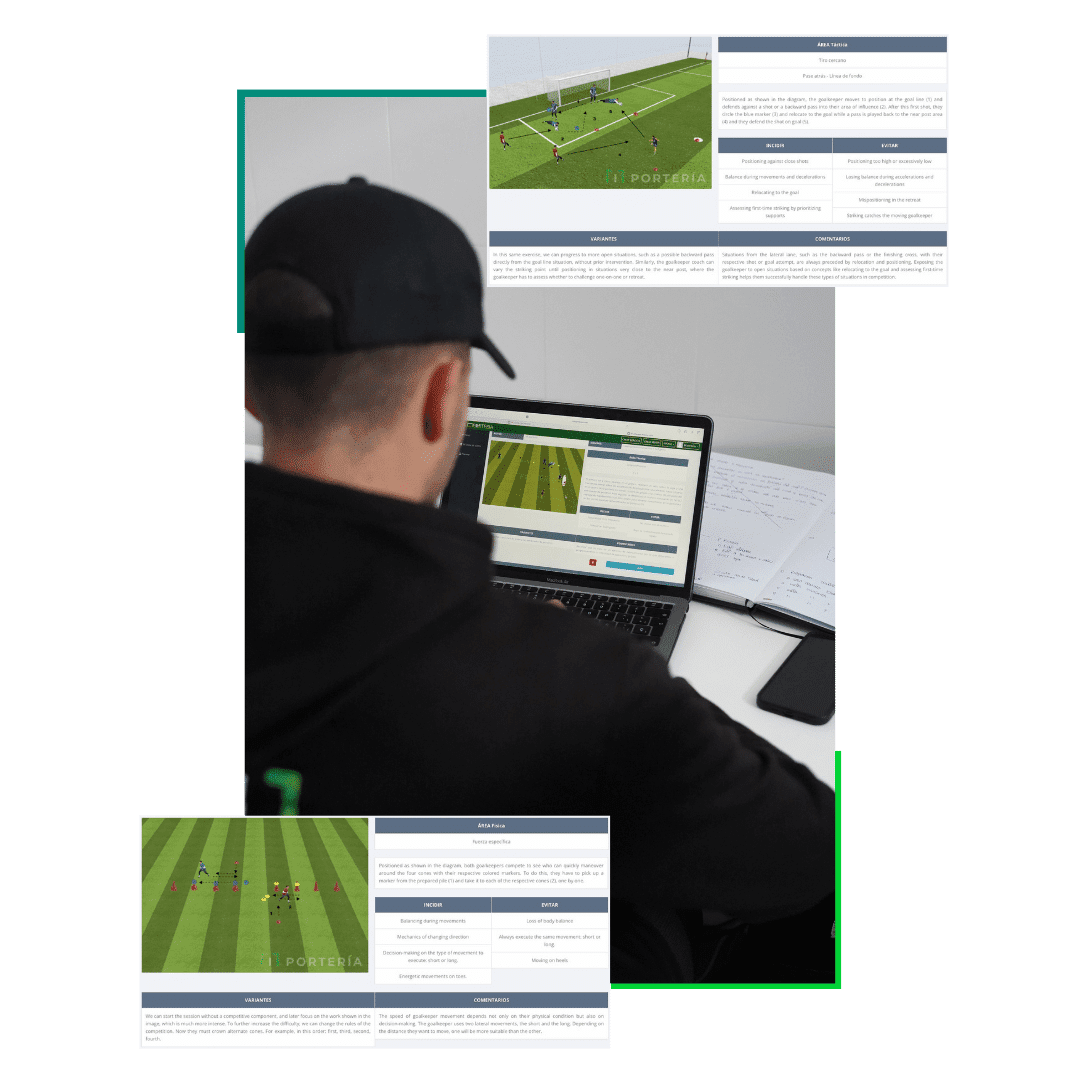 Use our graphic designer to meticulously create all the necessary elements in your exercises:
Over 20 fields with different perspectives
Over 100 figures with different physical and technical actions
All the necessary equipment like rebounders, steps, cones, mini goals…
FILTER BY CONTENTS, OBJECTIVES…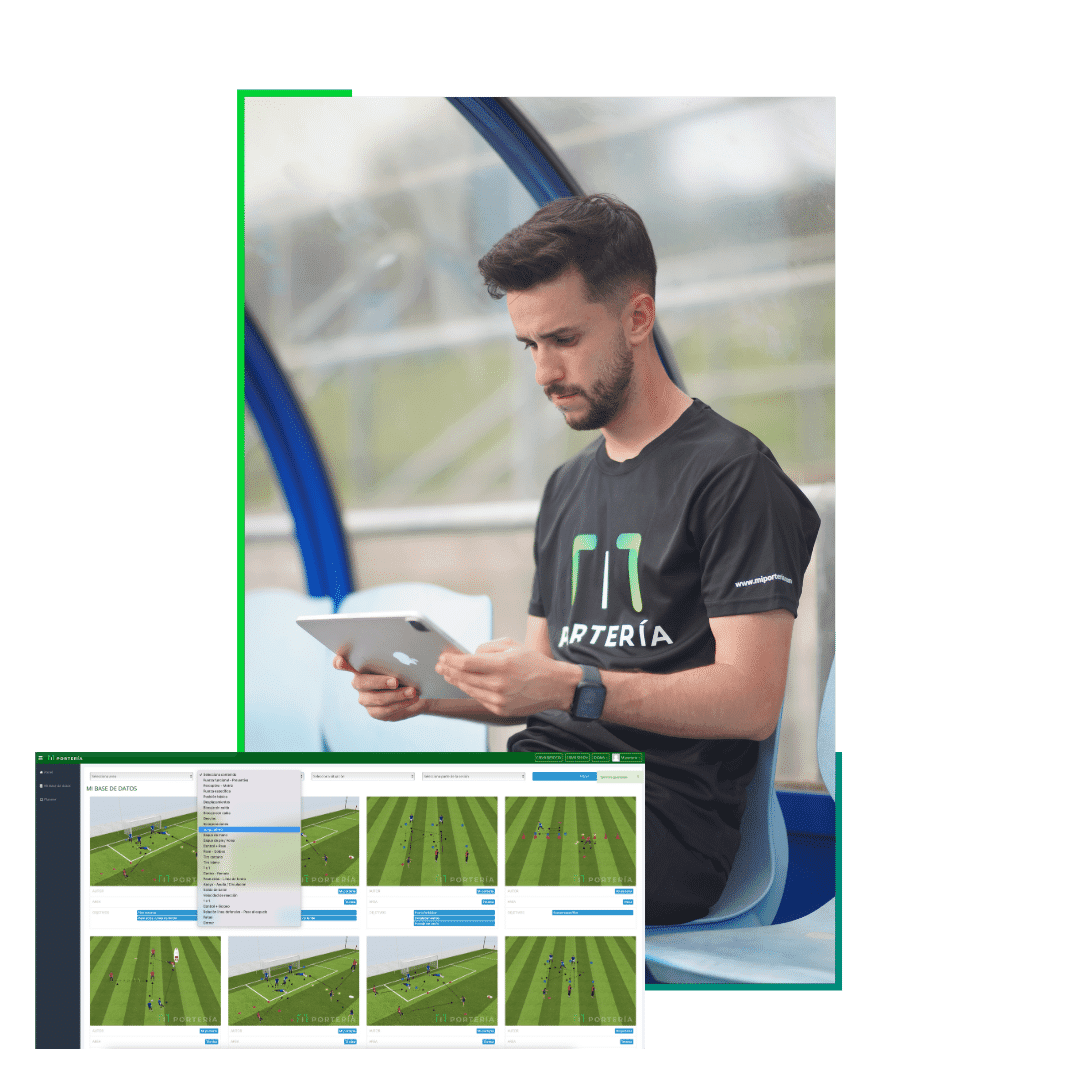 Encuentra siempre que quieras aquellos ejercicios que más se adapten a tus objetivos o necesidades según lo que necesites.
¿Necesitas ejercicios para tu calentamiento con 6 o más porteros?
¿Buscas ejercicios para mejorar la fuerza de salto o desplazamiento?
¿Precisas de ejercicios que potencien el juego aéreo o 1×1 de tus porteros?
Un solo clic y, ¡serán tuyos!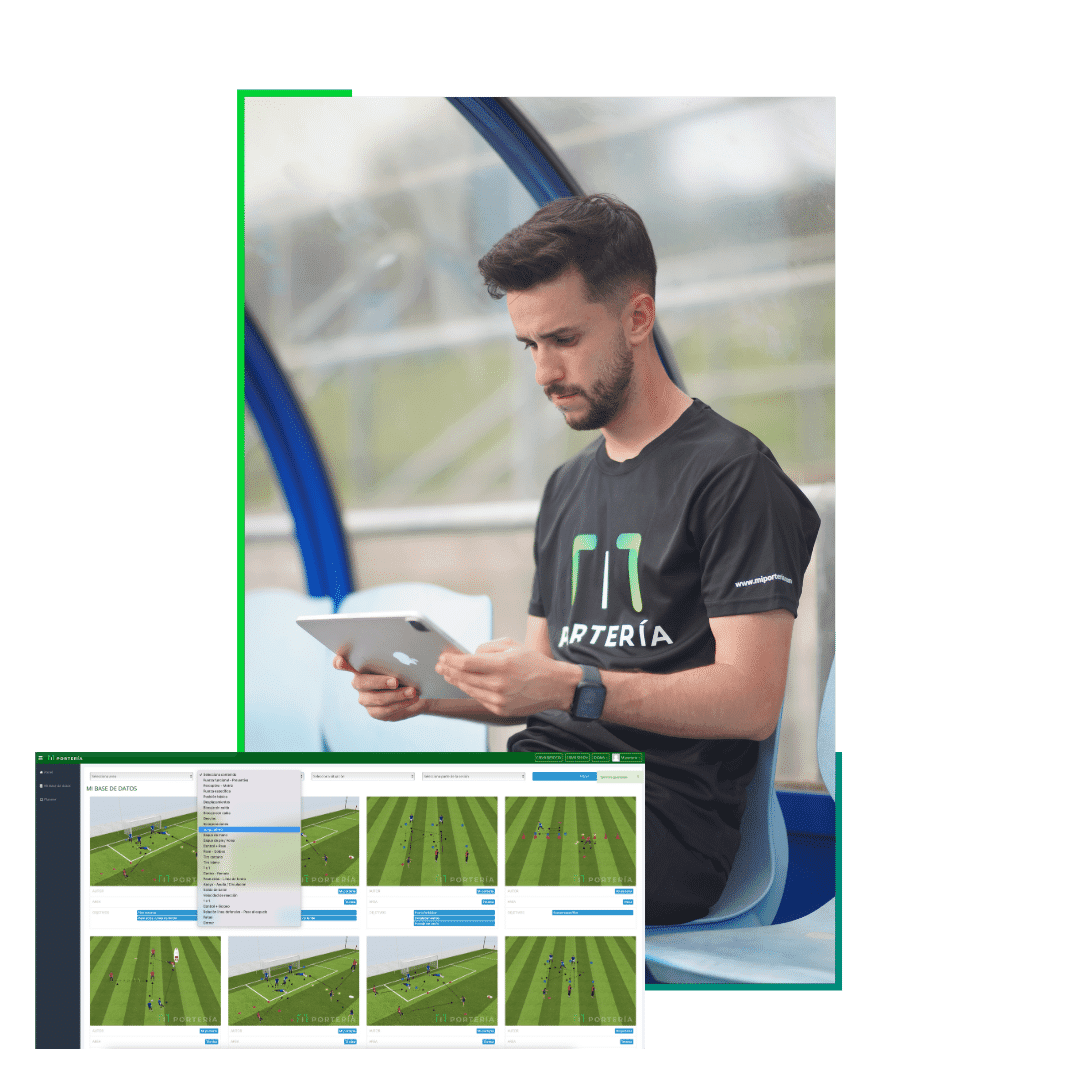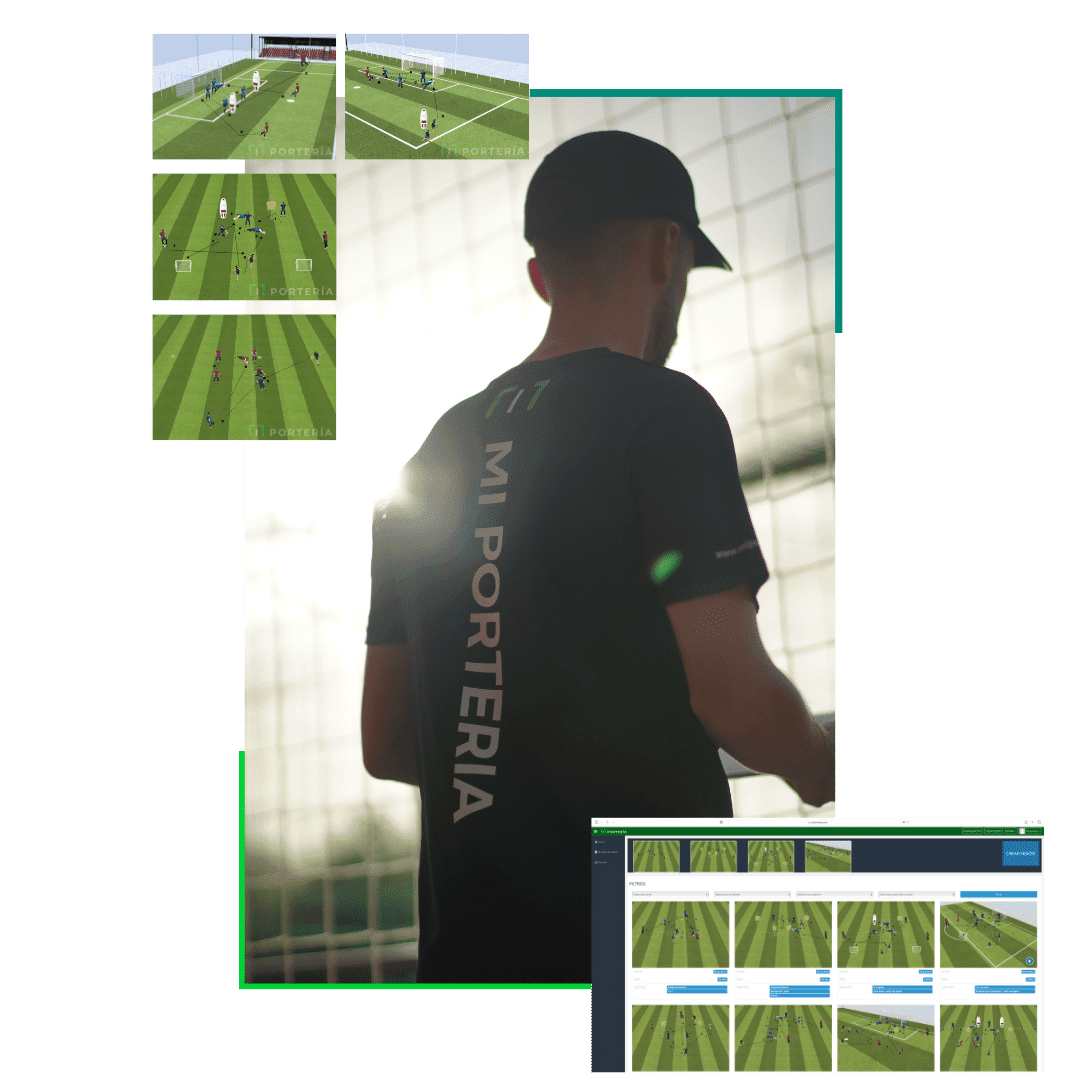 PLAN YOUR SESSIONS IN SECONDS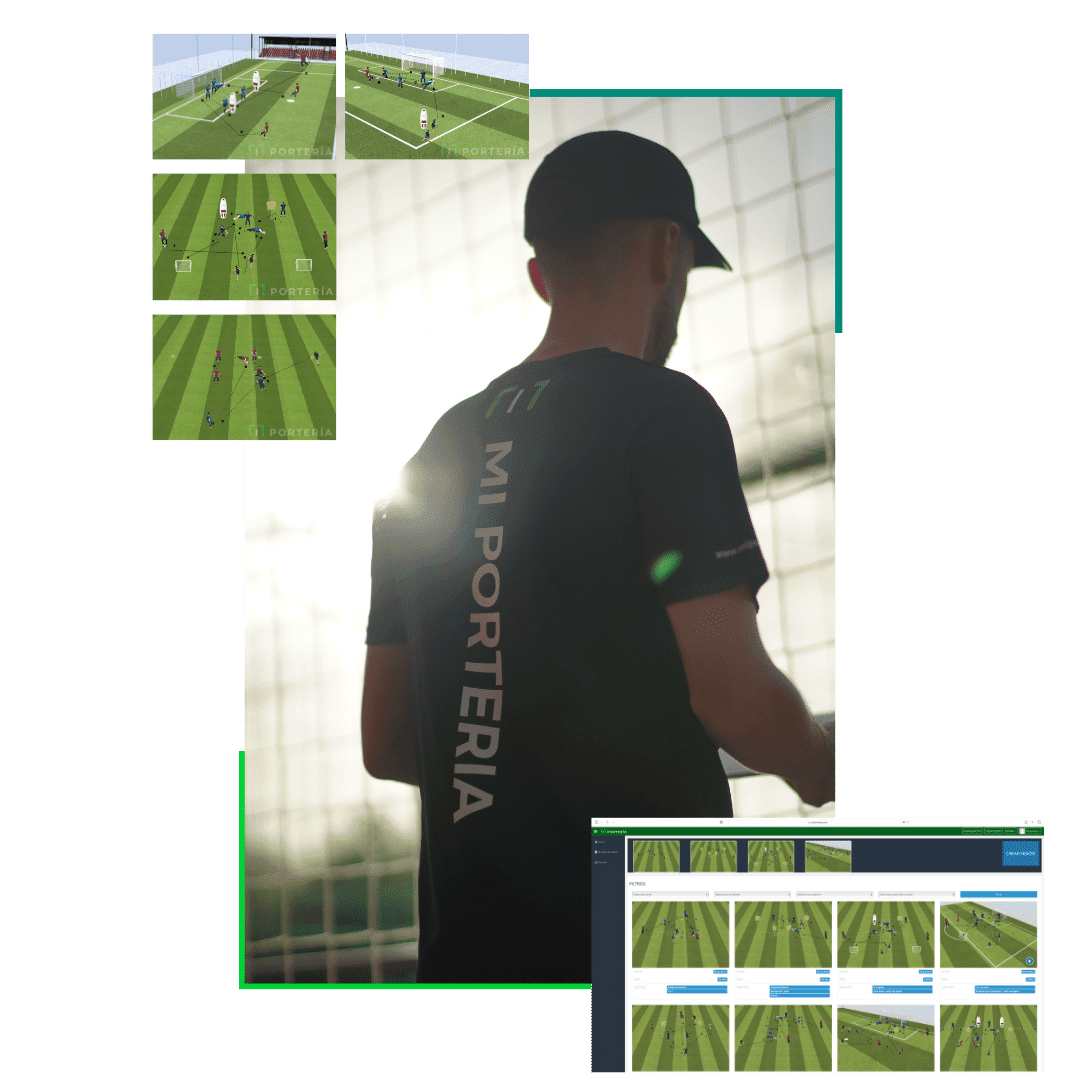 How much time do you currently spend planning your sessions? Think about it…
We offer a solution that guarantees up to 90% time savings.
Imagine this scenario: you select the exercises you need from your personal library, click 'create session,' and voilà! The session is ready in seconds.
DOWNLOAD AND TAKE YOUR SESSIONS TO TRAINING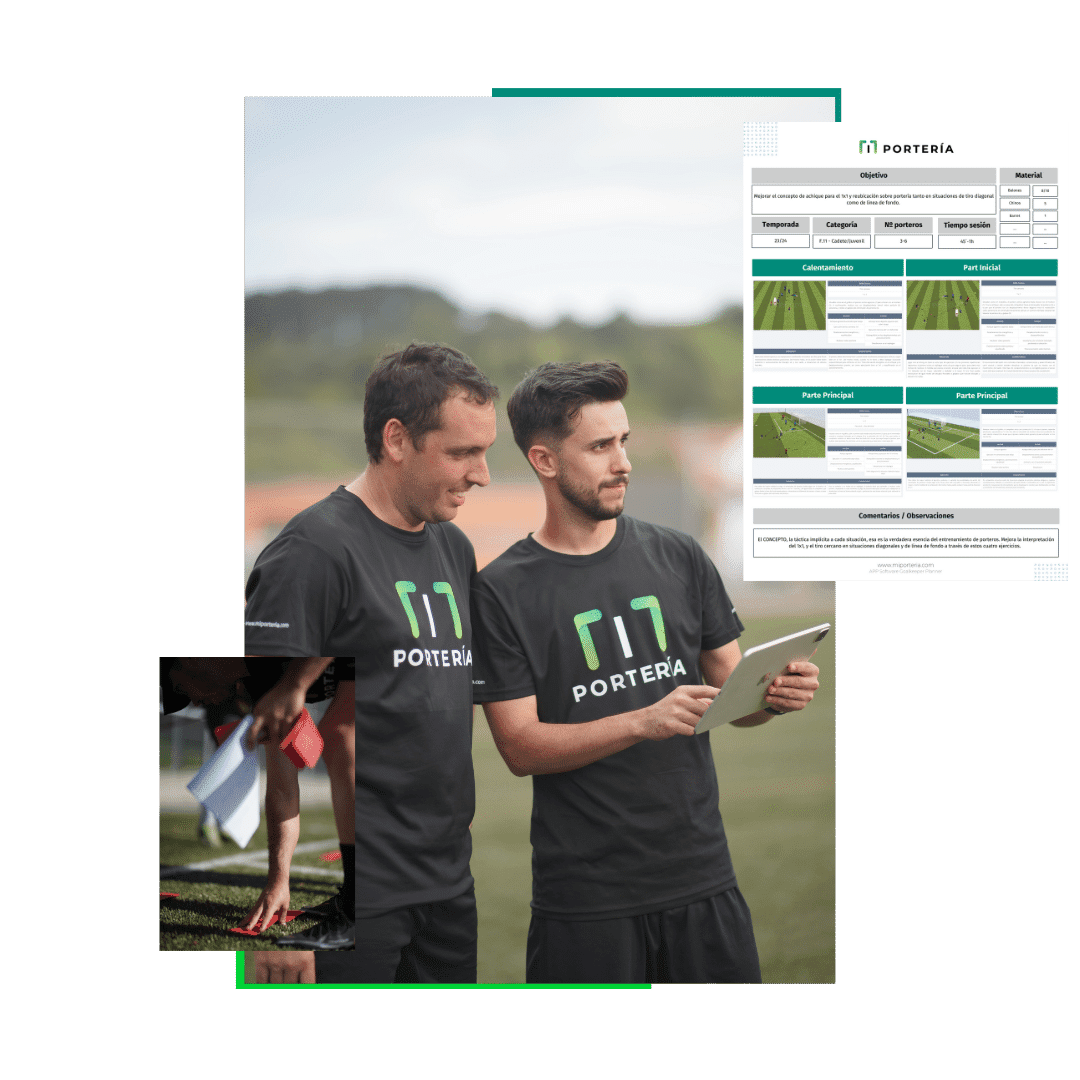 Imprime o lleva en tu móvil o iPad un PDF perfectamente detallado que explique tu sesión. Y no tengas miedo por si se te pierde o rompe… ¡Todas tus sesiones quedan guardadas en el planner!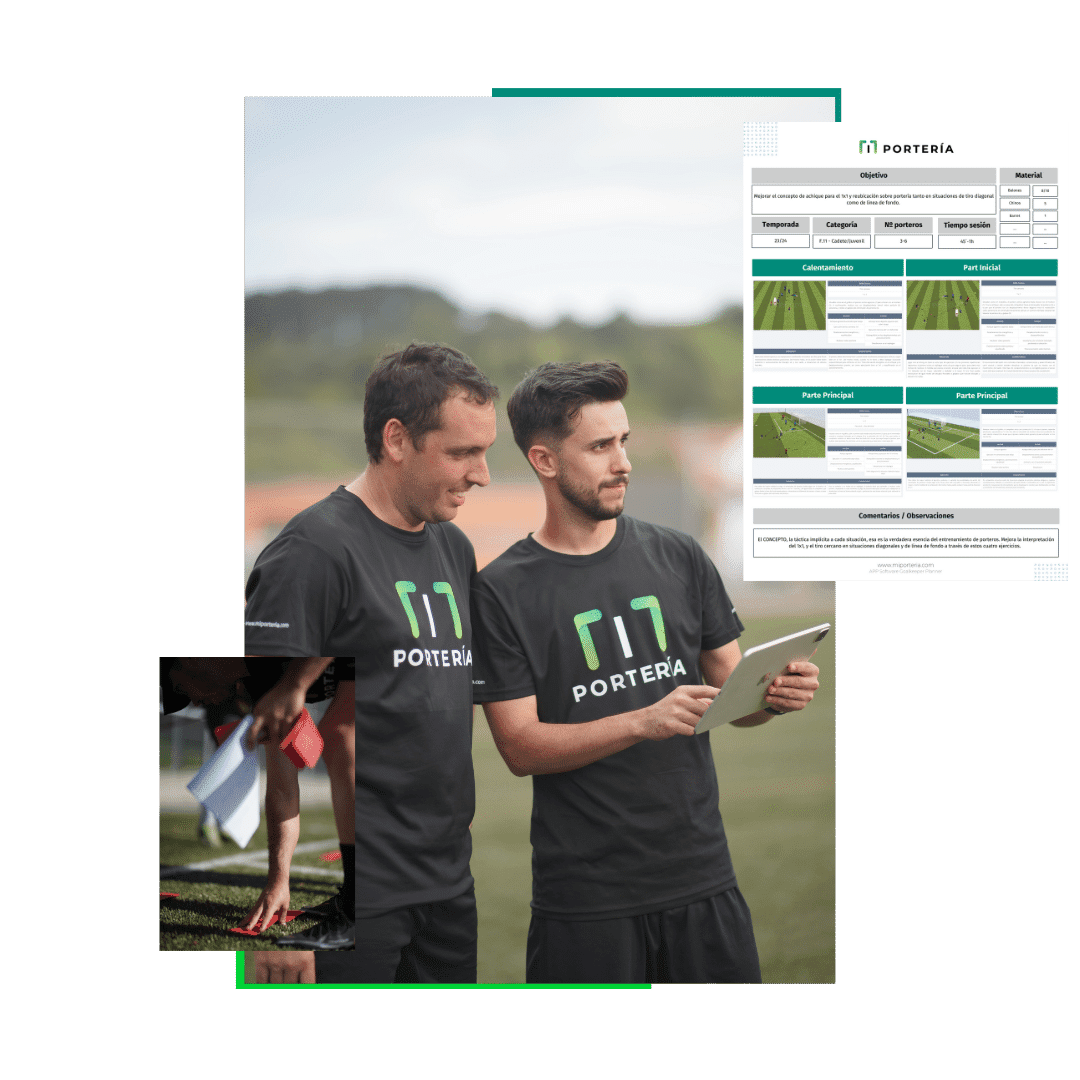 TESTIMONIALS
WHAT DO OTHER GOALKEEPER COACHES THINK ABOUT GOALKEEPER PLANNER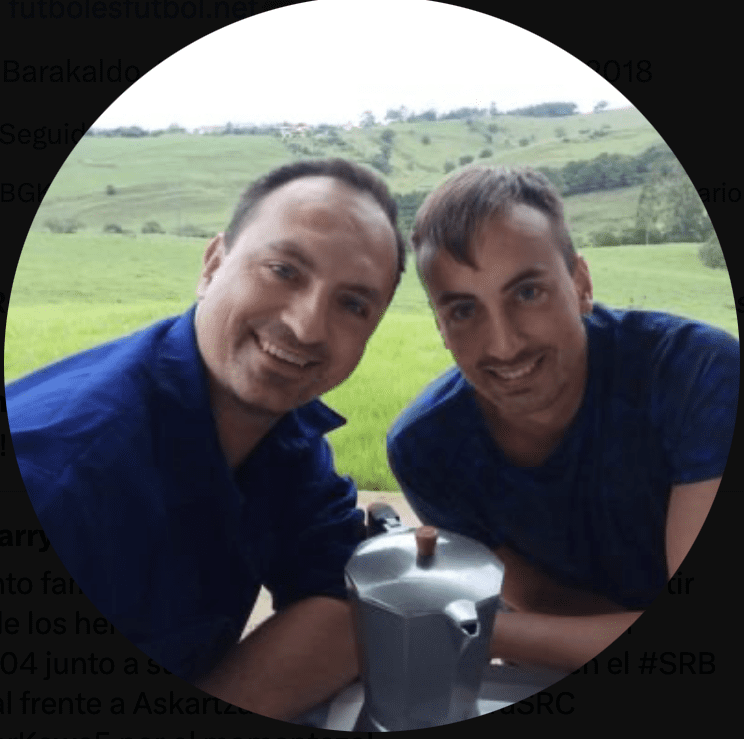 Endika Navarro (Entrenador de Porteros del Sestao River)
El diseñador de ejercicios de Goalkeeper Planner es una gozada. Intuitivo, rápido y muy práctico. Estoy encantado con esta APP la cual me permite planificar todo lo que necesite en muy poco tiempo. ¡Top!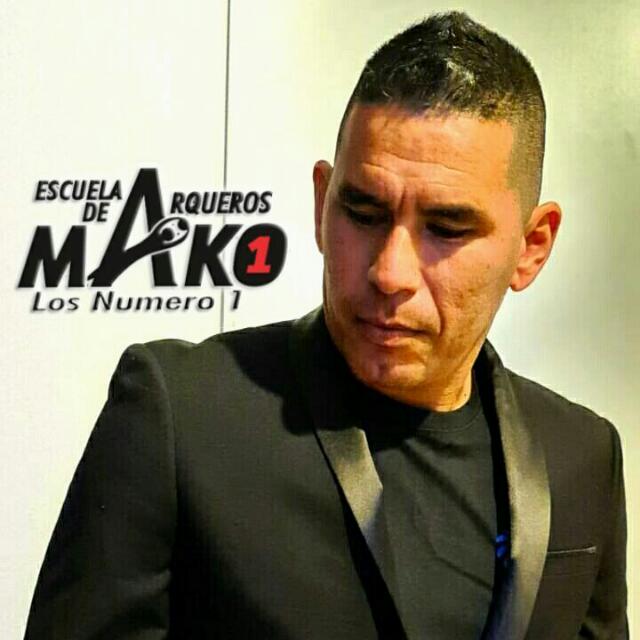 Mako los número 1 (Escuela de Porteros)
Como siempre, un placer trabajar con las herramientas de Miporteria. Llevo años utilizando Goalkeeper Planner para la planeación de mis sesiones y la cantidad de campos, muñecos y materiales me permite diseñador todo aquello cuanto deseo. Mil gracias son los mejores.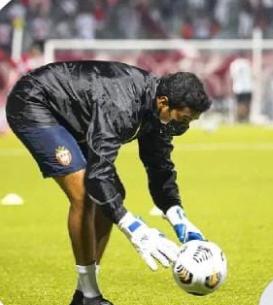 Kevin Moreno
Dentro de mis 4 años utilizando la herramienta Goalkeeper Planner tengo que decir que ha sido muy importante para mis sesiones diarias por su gran funcionalidad ya que cuenta con muchos ángulos de campos, materiales y figuras en acciones. 
¡Sin duda alguna la más completa que he visto! 
Agradecer a miporteria òr su gran trabajo y esfuerzo por darnos estas facilidades en nuestra labor diaria.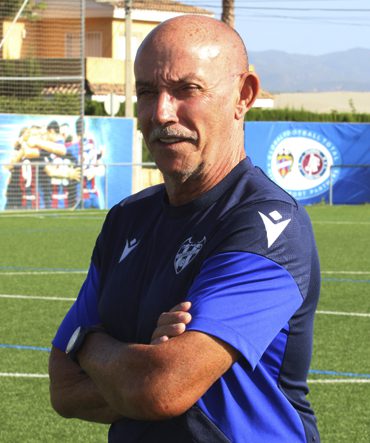 Manuel Correa (Entrenador de Porteros de la Academia del Levante U.D)
Es la mejor aplicación para entrenadores de porteros sin duda. Llegar al campo y montar las tareas gracias a la sesión previamente planeada y descargada favorece muchísimo centrarse en los porteros y sus necesidades. 100% recomendable.
APP SOFTWARE GOALKEEPER PLANNER
Join now…
Access to the world's largest library
New exercises every week
Capture and add hundreds of exercises to your library
Create your own exercises
Filter by content, objectives…
Plan your sessions in a matter of seconds
Download your exercises and sessions
Centralize your entire methodology
Payment methods
You can choose between monthly or annual payment, whichever suits you best. Payment will be made via credit card (through Stripe or Paypal) or even by bank transfer.
I can't buy it! What's happening?
If you can't buy it, don't worry.
Check the cart (shopping cart icon) and make sure you haven't already selected it for purchase before. That might be the reason why it won't let you select it again.
If it's not resolved, feel free to contact us via WhatsApp at +34 626 115 620 (Spain) or via email at miporteriagroup@gmail.com.
I have paid but I don't have access.
It doesn't use to happen, but…If it's a monthly renewal and you have automatic payment set up, sometimes the bank takes a few hours to process the payment correctly.
If it takes more than a few hours you can contact us in three ways. You can either send an email to miporteriagroup@gmail.com, or fill out the inquiry form (found at the bottom of each page of the website), or write us a WhatsApp message at +34 626 115 620 (Spain) and we will respond as soon as possible.
if I have paid monthly can I switch to annual payment or vice versa?
Of course you can. You will only have to unsubscribe and subscribe again with the payment method you prefer, *important, always indicating the same email so you can access to your account and your exercises.
I don't know how to access my content and I don't remember my login details for the website
Access miporteria.com and click on "Login" at the top right of the page. If you don't see the content in English, just click on the flag at the top right.
When you click on "Log In," select "Forgot my password," and an email will be sent to you to reset or change your password. If you don't receive the email or encounter any issues, contact us by sending an email to miporteriagroup@gmail.com.
I don't want to lose my exercises, how do I prevent this?
Important. No problem, as long as you are subscribed, your exercises and sessions will be saved in your personal profile on Miporteria.
However, please note that this benefit is not unlimited. If you, as a user, cancel your subscription and stop paying or do not renew for 3 months, you will automatically lose all your created exercises, with no option to recover them.
Basic Planner functions
In both Spanish and English, the Planner allows you to:
Create your own drills (Choose from various pitch types, different goalkeepers, various coaches, and different equipment. Additionally, you can add titles, notes, etc. for comprehensive task planning).
Swiftly design your own sessions by selecting from the numerous saved drills.
Gain access to a comprehensive library (database) of hundreds of pre-designed drills.
Download drills and sessions to your devices or print them on paper.
We've included a video for a quick and visual overview of the available options
You have the video tutorial at the beginning on this page.
How do I access my Planner to start creating?
Simply follow these steps:
Go to the website miporteria.com and

Click on "Log in" in the top right corner, enter your username (email) and your password.
Once you enter your personal profile, there it is! Your Planner is on the left-hand side in a vertical menu.
How do I download my sessions?
Once you've created the session in the Gk Planner App, you just need to click on the session and at the bottom right corner, click on the "PDF" button to download it to your device and print it.
Does it work offline?
No. Since it's an online service, you'll need an internet connection to access and work with it.
How do I access the database of exercises that are already created?
You can access:
The database of public exercises, inside the GK Planner, by clicking on the house icon "Panel" in the left-hand menu.
Your saved exercises, inside the GK Planner, by clicking on "My Database" in the left-hand menu.
Can I share and make my exercises public?
Yes. When you create the exercise, you can choose from the options in the dropdown menu that appears in the top right corner of the exercise. This way, you have the option to make it "Private" or "Public".
with what devices can I use it?
With any device. Whether it's a mobile phone, tablet, laptop, or PC. And with any operating system, be it Android or Apple system.
Can I create and save exercises in other languages?
Yes. At the top right of the exercise, you can choose the language you prefer. You have the option to create it in "English" or "Spanish" and, of course, save it in the chosen language afterwards.